When the Yankees acquired Frankie Montas on Aug. 1, a day before the trading deadline, the franchise and its fans celebrated.
The Reds had already dealt Luis Castillo to the Mariners — he has since signed a five-year extension with Seattle — so Montas, considered by many to be the second-best starter on the market because of his work with the Oakland Athletics, became a welcomed consolation prize.
"I know he's going to be a big addition to the staff," Manager Aaron Boone said after the Yankees shipped a minor league infielder, Cooper Bowman, and the young pitchers Ken Waldichuk, Luis Medina and JP Sears to Oakland.
But Montas's Yankees career immediately went sideways. He struggled over his first eight starts for the team before landing on the 15-day injured list with a shoulder injury that had been bothering him when he was in Oakland. And now, with the Yankees a win away from clinching the American League East, there's no guarantee that Montas, 29, can be counted on to make it back into the team's rotation, let alone be the frontline starter in the postseason that some had imagined.
"It's probably getting to a point where it's going to be tough as like a starting, built-up option," Boone said of Montas on Sunday. "That might be a challenge, but I think there's a chance that he can have a role and impact us."
Boone alluded to finding alternative ways to use Montas, who has recorded a 6.35 E.R.A. over his first 39⅔ innings for New York. That could mean coming out of the bullpen or being part of a piggyback setup where two pitchers split up the innings typically given to a starter.
Montas last pitched on Sept. 16, allowing four earned runs to the Milwaukee Brewers over three and a third innings. An M.R.I. was taken, and Montas was placed on the injured list on Sept. 20 (retroactive to Sept. 17) with right shoulder inflammation. He received a cortisone shot, and the Yankees had planned to shut him down from throwing for at least 10 days.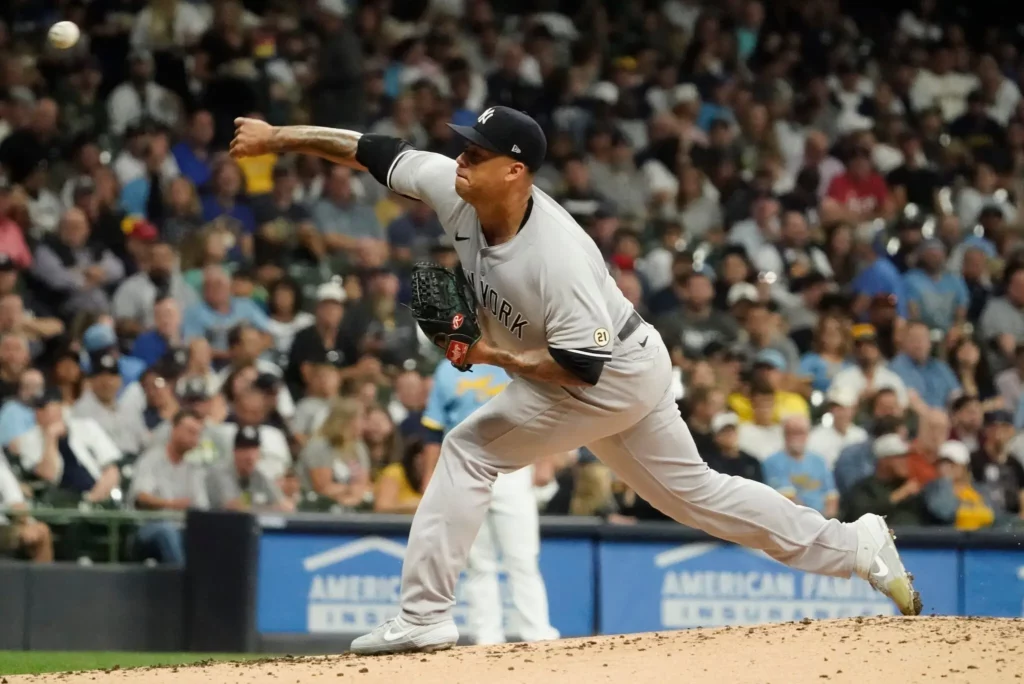 On Sunday, Montas said that he felt "better" and that he hoped to start "playing catch very soon." Boone said Monday that he expected Montas to start throwing this week. After being placed on the I.L., Montas had expressed optimism about contributing to the Yankees' postseason efforts.
"I still want to go back and try to help the team in the playoffs," he told reporters. "You know, whenever I can."
But with less than two weeks left in the regular season, Montas won't be able to take on a starter's full workload. Even if he could, it is not necessarily clear the Yankees would have a spot for him.
New York certainly didn't imagine this when the team traded for the right-hander. Montas had a 3.18 E.R.A. over 19 starts for the Athletics this season, and had a 3.37 mark with Oakland in 2021. But a shoulder injury in July, which Boone had called a "hiccup," may have been a bigger issue than anyone realized. Montas was still rebuilding arm strength at the time of the trade, and his latest I.L. stint led him to concede that he "probably rushed" his summer return.
Montas, however, blamed his stuff — not his shoulder — for his problems in pinstripes.
"I've had games where I haven't really been commanding my fastball or my secondary pitches," Montas said after his last start. "But I feel like a little bit of luck, it's not really on my side, but I keep going out there and trying to do my best."
Fortunately for the Yankees, Gerrit Cole, Nestor Cortes, Luis Severino and Jameson Taillon offer the team four solid starters for the postseason, though Severino is still building up after his own lengthy I.L. stint. He pitched Monday in Toronto, allowing two earned runs over four innings in a 3-2, 10-inning loss.
Even with that defeat, the Yankees are only one win away from locking up a division title and a first-round bye in the playoffs, with several players having recently returned from the I.L. to add some needed depth. It is an enviable position, but Montas is not the team's only question mark.
With nine games remaining in the regular season, Aaron Hicks's status is uncertain at best. The outfielder has enjoyed a relative stretch of success, going 7 for 18 with two home runs over his last six games. But that can't make up for a season of struggles, which prompted the Yankees to trade for center fielder Harrison Bader.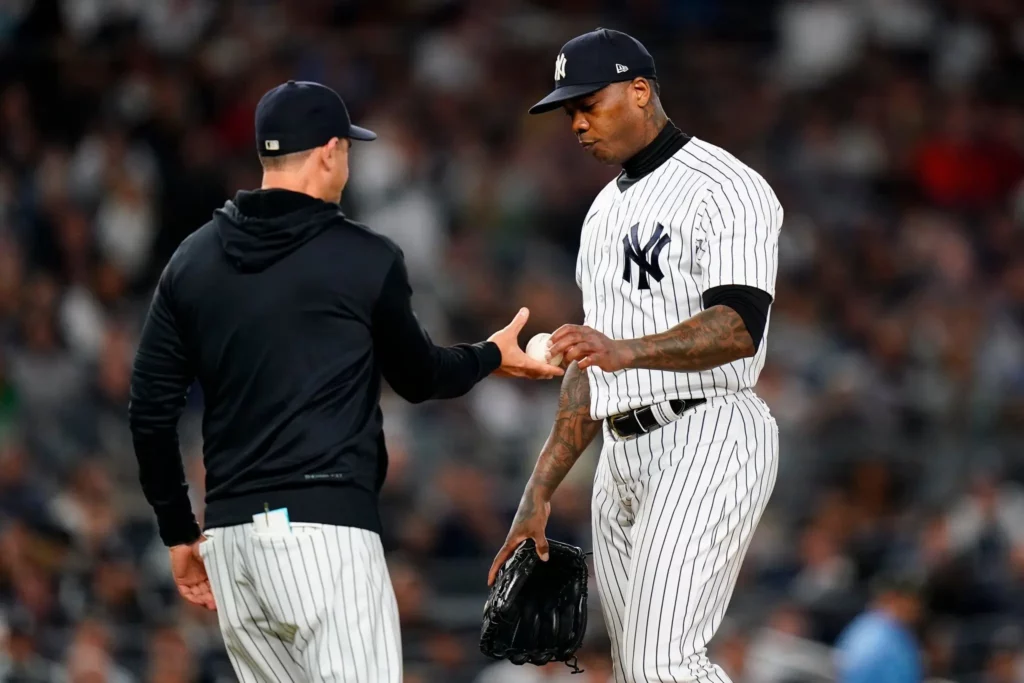 With Andrew Benintendi still working his way back from a broken hamate bone in his hand, the Yankees' preferred left fielder appears to be the rookie Oswaldo Cabrera. And if Matt Carpenter and DJ LeMahieu are able to return from injuries, that would limit Hicks's opportunities even further.
And then there is the Yankees' bullpen, which has plenty of talented arms but no clear-cut closer. The prospect of Aroldis Chapman, the team's longtime finisher, getting a postseason roster spot has been a topic of conversation after The New York Post reported the organization had considered designating the left-handed reliever for assignment.
Chapman, an impending free agent, has been unreliable, recording a 4.36 E.R.A. over 33 innings. He lost his closing job to Clay Holmes earlier this season, though Holmes, an All-Star, has since had his own rough stretches. The fluidity has led to the Yankees using 11 different relievers to record saves this season.
On Sunday, Boone was asked, point blank, if he could trust Chapman in high-leverage situations.
"Well, we'll see," Boone said. "Right now, I'm using him more in low- and medium-leverage situations.
"Physically, I feel like it's still there. The stuff is there. He's shown flashes of it throughout the season and even in the second half of the season. So we've got to continue to make the most out of every opportunity, and then we'll make that call."